Under The Sea
St Mary's 'Under the Sea' WOW day – Friday 26th February
This Friday is our first ever whole school 'virtual WOW day'! We're planning a whole host of different activites and experiences to immerse ourselves in an day under the sea. 
Key Questions:
Our value - Responsibility: How can we take care and consider the wonders of the Oceans? How can we be responsible for looking after the animals found in the Oceans?
Global Connected Curriculum - How do we make our voices heard?  How can we make a difference with our voices? 
Share your learning with us!
We'd love to find out what you've been getting up to! Make sure you upload some of your activities and your learning on Class Dojo so that we can see what you've been up to. 
Timetable for the day:
On Wednesday 24th February, you will find a copy of the timetable for the day. All of the Zoom links and codes will be e-mailed separately to parents on Thursday. 
Activities
Below is a list of all of the activities that you can choose from, with an explanation about how to complete the  'Under the sea' challenge. Good luck!
PE: Dance and Exercise
EYFS: Andy's Wild Workouts (Under the Sea)
KS1: Turtles, Dolphins and Whales
Diane Louise Jordan has the first of three dance sessions inspired by the sea.
STEM (Engineering) - All Year Groups
Design your own underwater species and explain how your animal has adapted to its habitat.
This creative activity from ARKive is designed to teach children about the concept of adaptation. Using the marine environment as an example, students learn about how different species are adapted physically or behaviourally to survive in a particular type of habitat. Students then design their own species adapted to a particular habitat. 
Click here for the ARKive PowerPoint PDF 
Post your new creature on Dojo!
Extension for KS2 children/ Year 2 children: Writing opportunities.
Compose a non-chronological report all about your new creature.

Compose a news report about the amazing discovery of a new creature in the depths of the Oceans.
Writing - (Years 1-6)
All great nature programmes such as Sir David Attenborough's Blue Planet – starts with writing a script.
Can you watch the video and create your own short script about the nature of the oceans, and record it in an audio-file. Some children may want to record it over the top of the video, to design your own 'Blue Planet.' An example of this can be found on the school YouTube channel. 
What key features will you use in your writing? 
Make a poster - All year groups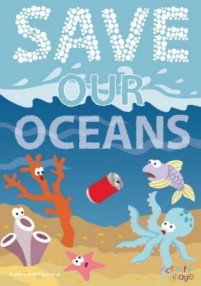 Unfortunately, plastic finds its way into the ocean and can damage our ocean wildlife.
Watch Sir David Attenborough's message about plastic from Blue Planet 2 and design your own poster about 'Saving our Oceans' and keeping them clean.
Science - Key Stage 2
Watch one of these exciting BBC Blue Planet live lesson and complete the different science activities that go with it.
Other BBC Blue Planet Live Lessons
Live Lesson Activity Sheet 1 Food Chains
Live Lesson Activity Sheets 2 Sustainability and Recycling
Storytime - All ages
Mrs Scriven, Mrs Lane and Mr Spens have recorded two videos sharing their own story. We've also got a story from Mr Chappell (Head of School, St Helen's)
Challenge: Can you create your own story using your own characters, or even characters you know from the Octonauts? Is there a problem that they can solve?
Links to the stories: Available from 9:00 am 
Design and Technology - All year groups
Some different options:
Create your own Top Trumps game for ocean creatures using our template
Use lego or similar, or recyclable materials to make your own underwater vehicle 
Have a look at the Octonauts website for younger children. 
You could use the Octonauts as inspiration for either of these. Find creature reports here.
Could you make the Octopod? How about designing another Gup?
Post photos of your creations on Dojo or Tapestry!
Art - All year groups
Create an underwater picture. This could be a sketch with pencils and crayons, or painted, or even made out of junk modelling.
Take a photo and share it with us on Class Dojo!
Activities from the Plymouth Aquarium: 
More live sessions from the Plymouth Aquarium:
1:30 – 1:45pm – 'Mermaid Tales' – meet a mermaid as they tell a story (EYFS, KS1)
1:00 – 1:20pm – 'Deep Science' – Looking after the oceans (KS2)
These will be live on the National Aquarium YouTube channel. 
Other activities which you could try (EYFS/Reception):
Unplugged coding
Watch this video. Create a simple under the sea obstacle course or draw an obstacle course on a piece of paper. Children have to guide an under-water robot (parent/sibling/toy) through the obstacles by shouting out simply instructions. E.g. forwards, right, left, backwards.
Make your own 'Under the Sea' Scene
Watch this video of the coral reef. Talk about the animals you can see. What are the animals called?
Use junk modelling or craft items you have around your house to create the scene. You could even add in natural objects e.g. grass as seaweed.
Counting Undersea Creatures
Show your child how to play this game: https://www.topmarks.co.uk/learning-to-count/underwater-counting
There is a simpler version with amounts to 5 and a more challenging version with amounts to 10.
CHALLENGE: Support your child to create a record of how many of each creature there were.
Other activities which you could try (Key Stage 1):
Guess Who?
Ask your child to write fact cards about animals from under the sea. They can use books or websites to find out about the appearance, habitat and diet of each creature. After this, play a game of 'Guess Who?' using the cards and yes/no questions.
Junk Modelling
Using junk or recycling materials from around the home, ask your child to design and make a Sea Turtle. Your child may wish to make another sea creature after this.
Put Your Goggles On
Your child can visit this website and watch a live stream of a tropical reef. Whilst watching, ask them to sketch all of the animals that they can see. Remind them to look at the shapes and patterns on each creature and to include these in their sketches.
Unplugged Coding
Watch this video. https://www.bbc.co.uk/bitesize/clips/ztqxhyc
Create a simple under the sea obstacle course or draw an obstacle course on a piece of paper.  Write simple code to guide the submarine around the obstacles found under the sea.  E.g. Rocks, shipwrecks, sleeping octopus.  E.g. →→↓→→↑→ etc.
Other activities which you could try (Year 5 and 6):
Exploring the Blue Abyss 
Can your child remember the oceans of the world? Encourage your child to find out about the five different layers of the ocean (Sunlight Zone, Twilight Zone, Midnight Zone, Lower Midnight Zone or Abyss and the Trenches). Sea creatures adapt incredibly to live in specific layers where the conditions, such as the temperature and light levels, can change. Can your child explore the creatures that are found in each layer of the ocean and create a fact file for each ocean layer with a labelled diagram? Can they use computing skills and search engines to explore about some of these layers and creatures.  
https://www.youtube.com/watch?v=cE3ALHYoeYg
Submarine Sculptures 
Ask your child to look at pictures of real submarines for inspiration and create their own model submarine from different materials found at home e.g. plastic bottles, paint, coloured pencils, string, paper mache, sweet wrappers, tin foil and cardboard. When your child is collecting materials, question them on the suitability of each material. Alternatively, children could design and create a boat to carry a load on the ocean using junk modelling. Remember to tweet a photo of their creation at #TheLearningProjects.
Reef Research 
The Great Barrier Reef is the only living thing which is visible from space! Encourage your child to take a virtual tour of the reef using AirPano and create a poster or video to promote the Great Barrier Reef. Ask them to use scientific language relating to the habitats and species groups found in the reef. Can your child identify the main threats to The Great Barrier Reef and include these too?
Other activities which you could try (Year 5 and 6):
Working Together to Save Our Oceans 
The BBC programme Blue Planet 2 sparked an outcry about the health of our oceans and the huge threat caused by plastics, but lots of people around the world are working hard to help solve this problem. Direct your child to read about Madison Edwards, a 12 year old environmental activist. Encourage them to do their bit to help preserve our oceans by asking them to keep a 'plastic diary' recording how much single-use plastic the family uses. Ask them to write down one thing that the family will do to use less plastic.
Bioluminescence: Lighting up Our Oceans
Many sea creatures possess a fascinating light-producing ability called bioluminescence. Some fish dangle a lighted lure in front of their mouths to attract prey, while some squid shoot out bioluminescent liquid, instead of ink, to confuse their predators. Direct your child to find out about bioluminescence and how some sea creatures rely on this for their survival. They could then choose a sea creature which uses bioluminescence (like the anglerfish) and create a poster fact sheet about it, including what bioluminescence is and how their chosen sea creature uses it.